SENDO is a professional manufacturer of quality air conditioning products.
Sendo could supply most products in HVAC field, such as Rooftops, Split Commercial Units, Chiller, Heat Pump, AHU and FCU etc.
Sendo also supplies made-to-measure HVAC solutions. We engineer and manufacture Air Conditioner to suit the building design and application.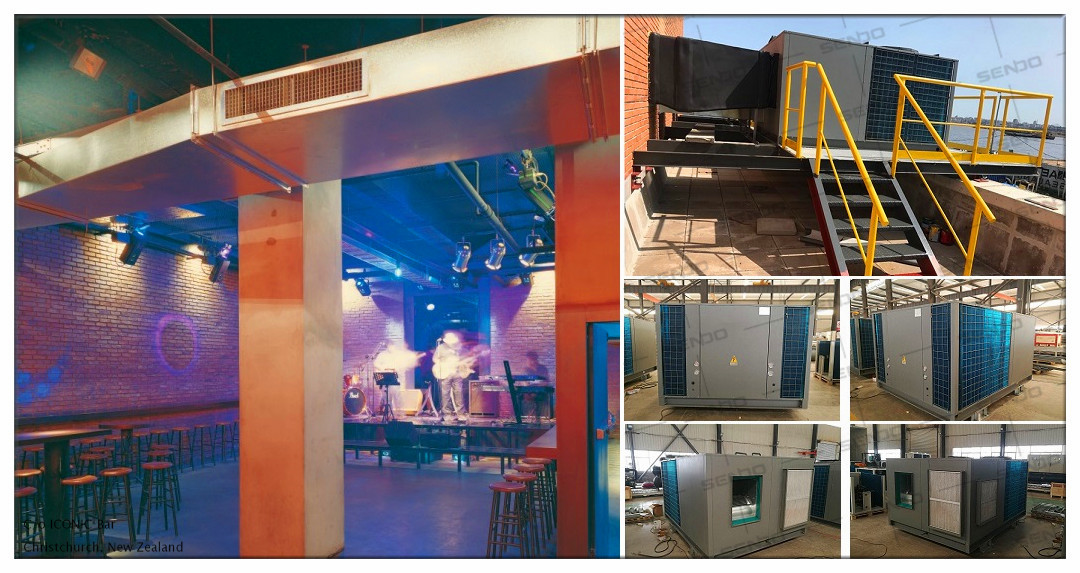 Sendo's rooftop package units are a proven product that have been used in many buildings across the globe. As shown above, they have been installed and operated in New Zealand
C/o ICONIC Bar & Restaurant
for over 7 years.
With Indoor air quality and running cost being more
important to our customer C/o ICONIC Bar
& Restaurant (
Christchurch, New Zealand), all Rooftops are supplied with economizer and fresh air hood as a standard feature to improve comfort through better fresh air management and allow energy savings with free cooling

1

. (

1
Thermodynamic Cooling can be replaced by Free Cooling when outdoor temperature is below the building set point saving up to 15% on annual energy consumption)
We use a VOC (Volatile Organic Component) sensor to detect the amount of CO

2

in the ambient air between 0 and 2000PPM

2

. (

2

This obviously varies depending upon the Passenger Flow Volume of the bar) The VOC sensor sends a proportional signal to the controller which will then modulate the fresh air accurately for improving indoor air quality. Introducing just the required amount of Fresh Air also can reduce energy consumption.


Sendo possesses the in-house engineering capacity to design (ODM) and manufacture (OEM) Nonstandard Air Conditioning Products

for your special ap

plication. As shown above, we

custom-tailor Heat Pump Dryer for food factory (Camiluz Enterprises, Inc) in Philippines in the application of mango drying. If you have an out-of-the-ordinary use case, contact us for more information on how we might be able to assist you with your application.
Why Us
SENDO c
ontribution to combat rising energy costs and global warming is to design innovative, efficient and dependable AC products, while providing best

comfort and air quality.
We are optimistic about the response that we expect to get from our potential customers because w
e strive to ensure that our customers get the quality products when they approach us

and we are determined to ensure that our customers can obtain various benefits when they buy Sendo air conditioners.